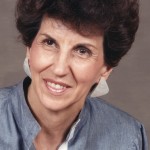 Joan Greenwell, 86, of Mt. Dora, FL, passed away July 9, 2015, at Cornerstone Hospice, in Tavares, FL.
A graduate of Monroe City High School, she was the owner of the Adam and Eve Beauty Salon in Monroe City. She then worked as a stylist at Fox Ridge Manor, before moving to Florida. Joan was a member of Ridgecrest Baptist Church, and the Vincennes Women's Connection.
Born October 28, 1928, near Monroe City, IN, she was the daughter of William Everett and Grace (Black) Harrison. Her parents; her husband, Fred Greenwell; and her siblings, Gwendolyn Hoffman, Henrietta Frankum, Randall Harrison, Henry Harrison, and Gene Harrison preceded her.
Surviving are her children, Constance Breidenbaugh and her husband, Carl, of Mt. Dora, FL, James Randall Like and his wife, Dedra, of Reo, IN, Pamela Cosby and her husband, Bart, of Petersburg, IN, and Christian Noel Like of Petersburg, IN; grandchildren, Shane Breidenbaugh, Joel Breidenbaugh, Andrew Breidenbaugh, Angela Heitzel, Allison Little, Ashley Like, Jeremy Like, Todd Cosby, Lana Cosby-Jones, and Liberty Like; and eleven great-grandchildren.
Friends may visit with the family from 6:00 – 8:00 on Thursday, at Goodwin Funeral Home. The funeral service will be conducted on Friday, at 3:00, at the Ridgecrest Baptist Church, 1820 McKinley Ave. Interment will follow at Mt. Zion Cemetery, near Monroe City, IN.
Donations may be made to the Stonecroft Ministries. Online condolences may be sent to the family through goodwinfamilyfh.com.
– See more at: http://goodwinfamilyfh.com/obituary/joan-greenwell/#sthash.k6HRmER0.dpuf