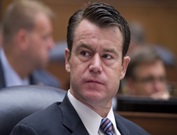 U.S. Rep. Todd Young has announced he will run for the U.S. Senate to replace retiring Republican Dan Coats.
Young, a three-term congressman from southern Indiana, made the announcement Sunday in a video released by his campaign. U.S. Representative Marlin Stutzman and former Indiana Republican Party Chairman Eric Holcomb previously announced they were seeking the GOP nomination, while former U.S. Representative Baron Hill is the lone Democrat to announcer. Hill defeated by Young for the 9th District seat in 2010.
Young said he is running for Senate on the ideals of limited, effective government and individual liberty. In the House he has worked to try to repeal the Affordable Care Act.