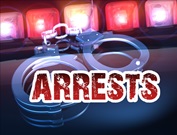 Vincennes Police arrested a local man on a charge of theft Tuesday afternoon. Officers arrested 51-year-old Mark Allen Wheatley. He was taken to the Knox County Jail where he is being held on 4-thousand dollars bond.
 —
 Yesterday at 3:30, Vincennes Police were called to 634 Manilla to investigate a dispute.  Officers came in contact with 43-year-old Tonya G. Patrick who was arguing with another person.  Police say they tried to calm things down, but Patrick remained disorderly and she was taken into custody for disorderly conduct, resisting law enforcement and two counts of battery on a police officer.
—
Two people were booked into the Knox County Jail on charges of Domestic Battery. 22-year-old Gregory Scott Pannell and 27-year-old Audra Pannell were arrested by Vincennes Police and booked into the Knox County Jail where they are being held without bond pending an initial court hearing.