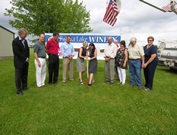 (photo of groundbreaking at Patoka Lake Winery. Lt. Governor Sue Ellspermann was on hand–photo from the Jasper Herald)
A southern Indiana winery plans to start offering overnight stays inside a new facility it is building.
State and local officials joined Patoka Lake Winery leaders in a groundbreaking ceremony Monday for the project that will include a tasting room, production facility and 300-person events center, along with three suites located inside the winery.
The winery also plans to have a pair of two-story silo-suites that are actually upscale lodging in the form of large grain silos attached to the winery.
The winery will be near Patoka Lake, some 50 miles northeast of Evansville. Plans are for wine production to start in August, with some suites available for overnight stays by the Christmas season.