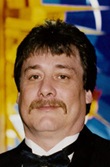 Jeff Reed, age 53, of rural Lawrenceville, Illinois, passed away Thursday, June 11, 2015, at his residence. He was born November 5, 1961, in Marion, Indiana, the son of Carl Reed and Judy (Morris) Walker. He married Teresa Tenney on June 29, 1985, and she survives.
Jeff was the owner/operator of Reeds Tree Service in Indianapolis. After he became disabled, his children became his life.
Jeff was preceded in death by his father and one brother, Carl Reed.
Survivors include his wife, Teresa of rural Lawrenceville, Illinois; his mother, Judy Walker of Cloverdale, Indiana; a son, Cody (Libby) Reed of Columbus, Ohio; a daughter, Kendra (Josh) Dlugosz of Washington, Indiana; two brothers Duane Reed of Cloverdale, Indiana and Fred Reed of Indianapolis, Indiana; two sisters, Becky Reed and Karrie Miller, both of Indianapolis, Indiana; one grandchild, Kara McDonald, and an uncle, Jim Reed of Greenwood, Indiana;
Funeral services will be at 12:00 Noon on Tuesday at Emmons-Macey & Steffey Funeral Home in Lawrenceville.
Visitation will be from 11 AM to 12:00 Noon at the funeral home.
Burial will be in Bridgeport City Cemetery.