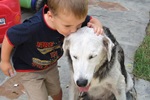 Fears of the flu for Fido are running high among many Indiana dog owners, thanks to a rare strain of canine influenza that has sickened over 11-hundred dogs in the Midwest. The Indiana State Board of Animal Health reports there have been at least a dozen cases reported in the northwest part of the state in the last week.
Dr. Thomas Mullaney with Michigan State University's College of Veterinary Medicine says most dogs who catch this strain of the flu will have mild symptoms like a cough, loss of appetite, sneezing, or a runny nose, that only require supportive care. But he says it can take a more serious turn.

Mullaney says any dogs that develop a cough or other respiratory symptoms should be seen by their vet. He stresses that while many dogs have fallen ill, the fatality rate for this strain of canine flu is, thankfully, quite low.