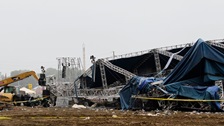 The Indiana Court of Appeals has ruled the state may be responsible for some liability of a company that provided rigging for a stage that collapsed at the Indiana State Fair nearly four years ago.
The appeals court ruled Monday that a trial judge failed to articulate why he sided with the State Fair Commission in March 2014 on whether it must indemnify Mid-America Sound Corp. The company argued the state was financially responsible by contract for the cost of its defense and any judgments against it.
Attorney General Greg Zoeller said the ruling means the state could be liable for an undetermined amount of damages despite the limits of the state's Tort Claims Act. Zoeller says he plans to appeal the case to the Indiana Supreme Court.